IT Recruitment
Are you looking to hire a Developer or a System Administrator for your technical team?
We are an agency specialized in IT recruitment in Romania, searching for IT professionals which are experienced in any technology from mobile to backend development, front-end development, full stack development, automated or manual testing, system administration, network administration, DevOps or databases – we can recruit for any technical role your company needs.
Evolve Today, the IT recruitment and headhunting firm based in Bucharest, is a key partner for your end-to-end recruitment processes. After we establish the terms or the collaboration, we make sure to recruit, select and hire people that have very strong technical and soft skills. These candidates will become the new members your team needs in order to successfully implement the technical projects within the company.
We bring talented candidates in your team
To stay competitive, companies need passionate and motivated employees that are on the cutting edge of technology in their industry.
Our role in the IT talent acquisition process is to find the right people for your projects and help your company establish a strong employer brand. We aim to attract candidates who are focused on their continuous professional development because they are the most valuable people out there.
Starting with this approach and being constantly connected and aware of the IT segment's dynamic and having a clear sense of people's personal and professional needs, we manage to attract valuable candidates that have what it takes for a given role.
Which are the companies that we cater to?
We are a trustworthy partner for companies that have a large number of roles to fill, limited time and they want to benefit from an optimized IT recruitment process.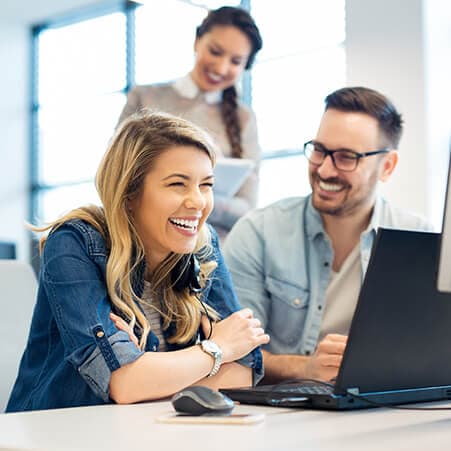 We have experience in recruiting IT professionals who are specialized in any technology. We recruit for small and big companies, startups, and we build on-site or remote teams.
Do you have any questions or curiosities?
Our team is here for you. Send us a message and we'll get in touch with you as soon as possible.
Do you want to meet the team?
Contact us and we'll set up a meeting to further discuss your business needs and find the right recruitment solution.